About Us

Devnow International is a well known importer, supplier and distributor of superior quality Glassware, Tableware, Decorative Items and Gift Items imported from well known multinational companies.

Our scintillating array of products, which includes Porcelain Dinner Sets, Bowls, Flower Vases, Glass Platters, Ash Trays, Wine Glasses (crystal and glass), Barware (stemware and tumblers), Candle Stands, Tea Light Holder and Figurines from the finest makes, enthrall the glass connoisseurs.

We have been suppliers to major Five Star Hotels, Boutique Hotels, Restaurants, Retailers and Wholesalers. The latest lines produced by the best in the world can be found under one roof at our enthralling showroom in Karol Bagh (Delhi).

We maintain a vast stock of goods so that we can supply as per the requirements of our clients.

Experience the glassware paradise by paying us a visit and we assure reasonable prices and quick delivery of the consignment. Our operating techniques are highly advanced and modern because we always run parallel to the latest trends and fashion prevailing in the industry.

Brands
1. Luigi Bormioli (Italy): Cutting edge sonyx technology makes the break resistant lead free crystal glassware ideal for hoteliers all over the world.
2. RCR (Royal Crystal Rock) (Italy): Crystal ware from RCR adorn the living spaces of consumers the world over. From antique cut glass to the modern contemporary look RCR makes crystal come alive.
3. Ocean Glass (Thailand): Barware (Stem glasses and Tumblers) from Ocean glass of Thailand has carved itself a special niche in the Indian hotel industry.
4. Vidvi (Italy): Glassware and amenities from ego-alter especially for fine dining is finding its way into high end table settings.
5. Devnow Ceramics: Ceramics And Fine Bone China Giftware Including Coup Plates, Plate Sets, Tankards, Cups, Bowls, Jars, Plant Pots,Soon, Big Plate, Platter, Trinket Boxes, Dishes, Vases, Mini Bells, Thimbles, Goblets, Beakers, Personal.
6. CRYSTAL D' ARQUES (Italy): Each Crystal d' Arques collection plays with the inherent qualities of Crystal combining the exquisite qualities of Sparkle,Purity And Finesse.
7. BORGONOVO (Italy): A Complete Range of Glasswares, Bowls, Plates, Jugs, Decanters, Stem Glasswares, Wine Glasswares. The main characteristics of Borgonovo Products is their strength to withstand daily and constant usage of many months and years and also of course Washing Cycles.
8. DECOVER (Italy): Decover is a Leading Firm in the Mechanical Production of Deorated Glasswares. The main features are: Experience, Professionalism, Modern Techonology, Hi-quality, Competitive Prices and Operating Efficiency. The Range of Decover Products are suitable for Housewares, Industrial and Promotional Sectors. Decover Covers complete range of Galsswares, Coloured Glasswares, Printed Glasswares, Printed Jugs, Printed Bottles, Glass Jars, Cup Sets.
9. Durobor (Belgium): Durobor® today is not simply a glassware manufacturer but a designer and creator of concepts. Renowned throughout the world for its range of specialist glasses, Durobor® has strengthened its position in the drinks sector with its collection EAT by Durobor® which combines the pleasures of design and drink with those of gastronomy and culinary style. Synonymous with strength, elegance and conviviality, Durobor® develops products which all derive from acareful dissection of professional requirements… From glassware for drinking to glassware for tasting and savouring.
10. Ariane Fine Porcelain: A complete range of Coup Plates, Plate Sets, Cups, Bowls, Big Plate, Platter, etc.
11. Stoneware is a rather broad term for pottery or other ceramics fired at a relatively high temperature. A modern technical definition is a vitreous or semi-vitreous ceramic made primarily from stoneware clay or non-refractory fire clay.
12. Metinox: India has grown as a notable manufacturer and supplier of SS Cutlery, Stainless Steel Cutlery Set, Kitchenware.
13. Devnow Modern Glassware: (Glassware, Bottle, Dispenser Jar).
14. Circleware: (Jar, Bottle, Dispenser).
15. Bohemia crystal, is glass produced in the regions of Bohemia and Silesia, now parts of the Czech Republic. It has a centuries long history of being internationally recognized for its high quality, craftsmanship, beauty and often innovative designs.
16. Pedrini italy: All types of Kitchen Ware Items.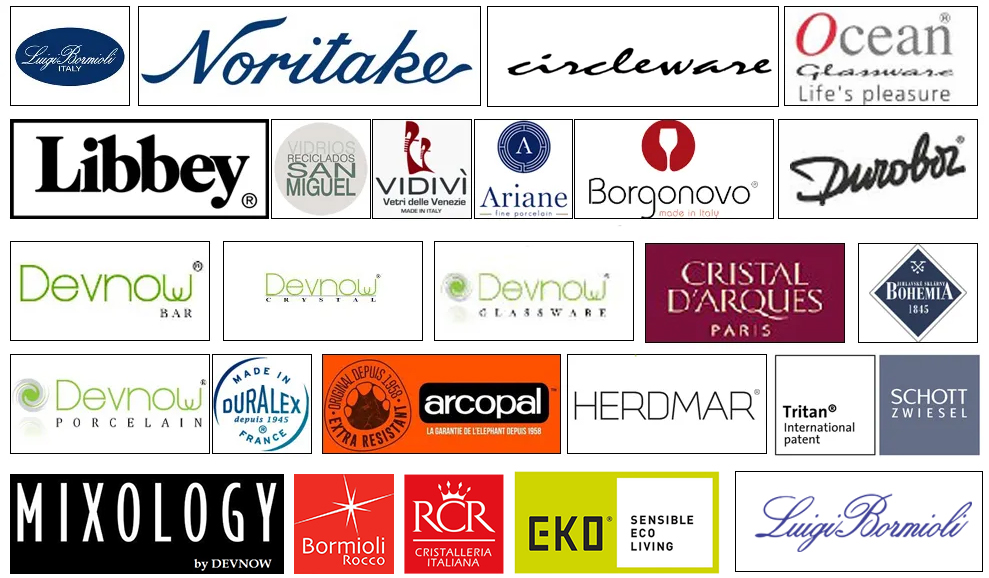 Get in touch with us